OBTAINING A SUSTAINABLE PNG FORESTRY INDUSTRY
The Forest Industries of Papua New Guinea are important because they provide many thousands of jobs for the people of this country and help deliver services such as community schools, aid posts and roads to village people.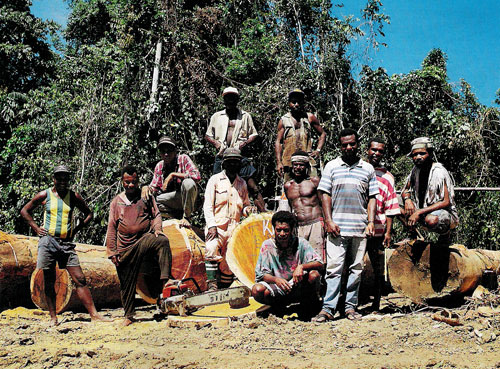 The Forest industries create many thousands of jobs for the people of Papua New Guinea
Many of these things are agreed with the Government before it allows forest industry operations to commence. Many types of operations exist, from small village based sawmills to large operations run by major overseas companies.
The Forest Industries of Papua New Guinea make a big contribution to the country's exports which is very important because this helps pay for a lot of the basic goods the country needs to import. Not all of PNG has forest with commercial potential. Only about 25 per cent of PNG has forests which can be used by industry. These are the areas which have the commercial potential to support long term operations for domestic and export consumption. The rest of PNG, about 75 per cent of the land and forest area, provides many opportunities for wildlife protection and conservation.
The challenge facing the industry and the Government is to manage the productive forests in such a way that will enable people to benefit from the resource today whilst ensuring that the resource can be conserved for the benefit of future generations.
Most of PNG's forest resources are located in remote rural areas which receive few Government services and in many places there has been little development compared with the type of development people living in the towns and cities have enjoyed.
By using and managing the forests of these areas in a sustainable manner, rural people are provided with opportunities for development in their areas and the benefit of some of the services that people living in towns enjoy every day.
All timber companies operating in PNG are required to take care during logging operations and not to cause unnecessary or avoidable damage or disturbance, and to leave the remaining forest in a condition that will recover over time. This also helps the animal and bird populations recover after logging operations in an area.
Forest and employment
The country needs to create as many jobs as possible for people in both the rural and urban areas. The Forest Industry at present directly employs more than 10,000 people, which makes it one of the biggest employers in the country. Many jobs are also created in many spin off or associated activities. The Forest Industry provides jobs for both skilled and unskilled people and most of these jobs are provided in the rural areas so people don't have to move to the towns to look for work. Also, people in villages get some opportunity to sell their garden produce to the logging camps for their income. Forest Industries provide jobs for people in areas such as logging and milling operations, in occupations such as supervisors, equipment operators, sawmill operators, technical support and general labour With experience, training and ability, management positions are also open.
Forestry and health services
It is a condition in many timber permits granted by the National Government that the operators build and maintain aid posts for the people of the area. These aid posts provide convenient health services for landowners in some isolated rural areas. The aid posts built and maintained by the logging companies cater for the basic health needs of the village people in the area and provide treatment for sicknesses such as malaria, dysentery and snake bite, and help mothers with young babies. Without these aid posts, the village people would have to travel long distances to get basic health services and because most of these people live in very remote areas they would not be able to travel long distances if they were sick. By providing these health services the Forest Industry operators are improving the lives of the village people and helping them if they get sick.
Forest industry and education
Forest operators may be required to build community schools in the areas where they are operating. These schools provide the opportunity for many thousands of young Papua New Guineans to go to school close to home. The Forest Industry can build these schools because they operate in the area and can provide the materials and labour to construct classrooms close to villages, which means children don't have to travel long distances to go to school. If the Forest Industry operators did not build these schools and teacher housing, many children would not have the opportunity to receive an education. try develop. At present, the Industry sponsors students in many educational areas such as technical and tertiary training both in PNG and Overseas.
Forestry and business development for rural people
The Forest Industry creates many business opportunities for rural people from the payment of royalties and premiums to landowners and to landowner companies and the spin-off business activities. Because of the presence of Forest Industry operations in their area, Landowner companies are provided with business opportunities in industries such as in transport, trading, sawmills and many other business opportunities that would not exist if the logging companies were not operating in the area. Logging companies pay millions of Kina every year to landowners through royalties and premiums. Some of this money is invested in businesses of their choice to provide more income and jobs for the people of timber areas. By creating these business opportunities and paying royalties and premiums to the landowners, the forest industry is doing its part in the distribution of benefits which results in spin-off improvements to rural communities.
Infrastructure
One of the major problems faced by rural people is their isolation caused by a lack of roads and bridges. Transport infrastructure is a very important tool of development. Forest operations build roads and bridges which enables peoples villages to be connected with services. This improves the lives of rural people because they can travel by road to sell their produce in markets. As the Forest Industry in PNG grows and expands it will provide many more and different jobs for the people of this country.
As the Forest Industry grows there will be more schools built which means that more children will have the opportunity to be educated which will help the country develop. Forest operators have been responsible for building many of the roads in the remote rural parts of this country and continued forestry operations will ensure that more and more people have roads and bridges in their areas. With access to these roads, people can trade with each other and carry their produce on trucks and PMV's instead of having to carry heavy loads on foot over long distances. The construction of roads and bridges provides the infrastructure that will help the country develop and provide many more jobs and opportunities for young school leavers. Airstrips and wharves improve access to remote areas by easier transportation and delivery of goods. This helps to improve the standard of living in rural areas.

By managing our forests properly it is possible to harvest some areas today and allow the
natural re-growth to be available for future generations to enjoy
The future for forestry in PNG
Papua New Guinea is fortunate to have these timber resources and we must develop them in a sustainable manner that will provide jobs and economic opportunities now and ensure that there is enough resources left for future generations to benefit from. This can be done if the correct management of the resources is put in place which allows for a balance of harvesting and conservation for the future. For planned management to be effective, there must be commitment of resources for development in the nation's long term interest.
By managing our forests properly it is possible to harvest some areas today and allow the natural re-growth to be available for future generations to enjoy. Papua New Guineans can help by planting useful timber trees or fruit trees in their areas, and trying to get people to take an interest in improving the forest in their area.
Expansion of the Forest Industry in PNG will also provide some jobs for people in areas such as sawmilling and processing of timber products. PNG has the opportunity to develop it's forests in a sustainable and productive way that will both maintain the environment and create jobs for school leavers.
As a developing country, PNG must take sensible steps to utilise its natural resources in a way to benefit the nation in the long term. there is enough forest in PNG for protection, conservation and resource development in the Nation's interest, if the right decisions are taken to promote long term resource development through resource security. Our forests are not "disappearing" because of the timber industry. We must use our forest resources wisely in the long term to ensure that they can sustain long term activity. Logging causes changes to the forest, and if these are managed adequately, the forest recovers to provide further future benefits.
The Forest Industry works closely with Governments at both the National and Provincial level to ensure that the forests can be developed in a sustainable way and to ensure that the environment can be utilised and conserved in a responsible way.
The Forest Industries Association expects that the Forest Industry will continue to develop in Papua New Guinea and will in the future expand into new areas of operations including downstream processing. The potential exists for the Forest Industry to create many thousands of new jobs and boost the country's export earnings to help Papua New Guinea towards higher standards of development. At the same time, we can protect our forests for many uses. One very important purpose is to maintain forest industry and rural development based on the approximately 30 per cent of PNG which has long term forest utilisation and management potential.
Reprinted from PNG RESOURCES Magazine